THE DIFFERENCE LIES IN ARTISTRY AND SKILL.
Dr. Sedgh has exceptional credentials and a superior level of training, coupled with a natural eye for balance and harmony. As a double board-certified facial plastic surgeon, he has truly extraordinary skills and surgical techniques. Dr. Sedgh has a deep understanding of facial aesthetics and consistently achieves results that exceed the expectations of his patients. He merges the mastery of his craft with advanced surgical skills, performed with the attention and perfection of a sculptor. His results are elegant, sophisticated, and of outstanding quality.
A NATURAL-LOOKING RESULT – IT MATTERS.
If you are considering a facial procedure, whether surgical or non-surgical, you want the results to be an enhancement that improves your quality of life. Dr. Sedgh has dedicated his professional skills to creating surgical outcomes that are exceptionally authentic in appearance. He understands that most of his patients are not interested in a result that reveals they had "work done." It takes high-level surgical skill and artistry to create a very natural look, and when you are under the care of Dr. Sedgh, you can trust that your face is in the hands of a true master of the art of facial plastic surgery.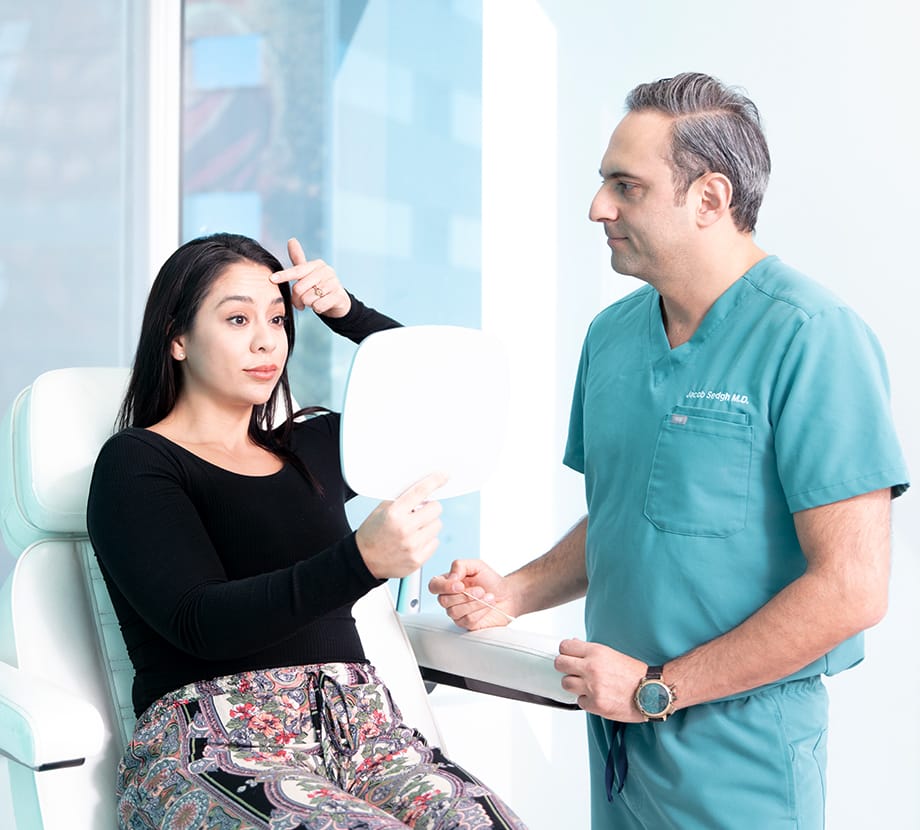 WHAT CAN DR. SEDGH DO FOR ME?
If you are unhappy with some aspect of your face, whether due to shape, balance, or aging, your look can be subtly altered so it appears more appealing in the most authentic way. Dr. Sedgh provides a wide range of surgical and non-surgical treatments, which can often be combined to achieve optimal results. He has focused his talents on facial treatments, including the following:
Nose surgery: Rhinoplasty, or nose surgery, is one of the most difficult of all facial procedures. Aesthetic nose surgery can reshape your nose structure to resolve any problem, including too large of a nose, a hanging tip, a hump on the bridge, and many others. Dr. Sedgh is regarded as being one of the finest nose surgeons practicing in the Los Angeles area, known for his ability to create superior balance and harmony among your facial features. The results of his nose surgeries are remarkably similar to what you will see with his 3D imaging system.
Eyelid surgery: You may be ready to rejuvenate your facial look with eyelid surgery, but you want the result to appear fresh and natural—not a wide-eyed, unbalanced look. When your eyelid surgery is performed by Dr. Sedgh, you can expect to look younger, well-rested, restored—and like yourself.
Facelift: Advances in surgical technique make it possible to perform a facelift that creates a very natural, authentic look—not pulled, tight, or stretched. Dr. Sedgh, a leader in the field of facial surgery, employs the most advanced techniques when performing a facelift, with results that are exceptionally balanced and natural.
Ear surgery: Your ears frame your face, and when too large, protruding, or misshapen, naturally draw the eyes of others. For beautifully natural-looking results, you can be confident in the surgical skills of double board-certified facial plastic surgeon, Dr. Sedgh. Your ears can be reshaped if needed and will lie naturally against your head—a life-changing procedure, increasing your confidence and quality of life.
COMFORT & TRANSPARENCY FROM START TO FINISH
When under our care, Dr. Sedgh always ensures you feel comfortable, cared for, well-informed about every aspect of your upcoming treatment, whether surgical or non-surgical. With an approach which focuses on achieving refreshed, natural-looking results, Dr. Sedgh prides himself on always acting with transparency, honesty, and the highest level of ethical treatment, from start to finish.