Saddle nose occurs when the cartilage in the septum or nasal walls is damaged to the point of collapse. Trauma to the nose can cause this deformity – the concave nasal bridge is also called "boxer's nose" due to punches to the nose causing the bridge to collapse. Rhinoplasty is another common cause of saddle nose. If too much cartilage is removed, the bridge can lose support. Symptoms of saddle nose deformity include:
Concaved nasal bridge
Shortened nose
Over-rotated nasal tip (pig nose)
Collapsed nasal valves (nasal obstruction)
Rhinoplasty is needed to repair a collapsed nasal bridge. Most saddle nose repairs will require cartilage grafts and other support devices to restore the structure of the bridge and nasal passages.
Collapsed Nose Correction
Saddle nose repair is one of the more complex rhinoplasty procedures. It is vital to restore function of the nose, but correcting the appearance is also important. Dr. Jacob Sedgh is one of the best rhinoplasty plastic surgeons in the greater Los Angeles, CA, area, renowned for his expertise, skill and artistry. He carefully plans every collapsed nose rhinoplasty procedure to determine the best methods to achieve a balanced, natural nose appearance while ensuring any functional issues are corrected during the surgery.
During saddle nose correction surgery, patients will likely receive cartilage grafts to restore support to the nasal bridge. Dr. Sedgh recommends autologous rib cartilage grafts when excess cartilage is needed, which is harvested from the patient for the safest and most reliable outcomes.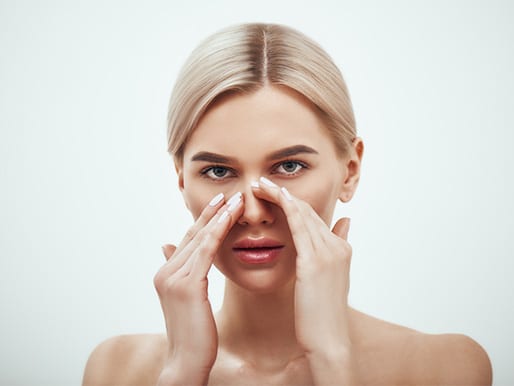 If you have a boxer's or saddle nose, there are solutions to restore natural shape and function. To learn more about correcting a collapsed nasal bridge, contact us at Dr. Sedgh Facial Plastic Surgery. Call our center in West Hollywood, CA, to schedule a rhinoplasty consultation with Dr. Sedgh.
COMFORT & TRANSPARENCY FROM START TO FINISH
When under our care, Dr. Sedgh always ensures you feel comfortable, cared for, well-informed about every aspect of your upcoming treatment, whether surgical or non-surgical. With an approach which focuses on achieving refreshed, natural-looking results, Dr. Sedgh prides himself on always acting with transparency, honesty, and the highest level of ethical treatment, from start to finish.