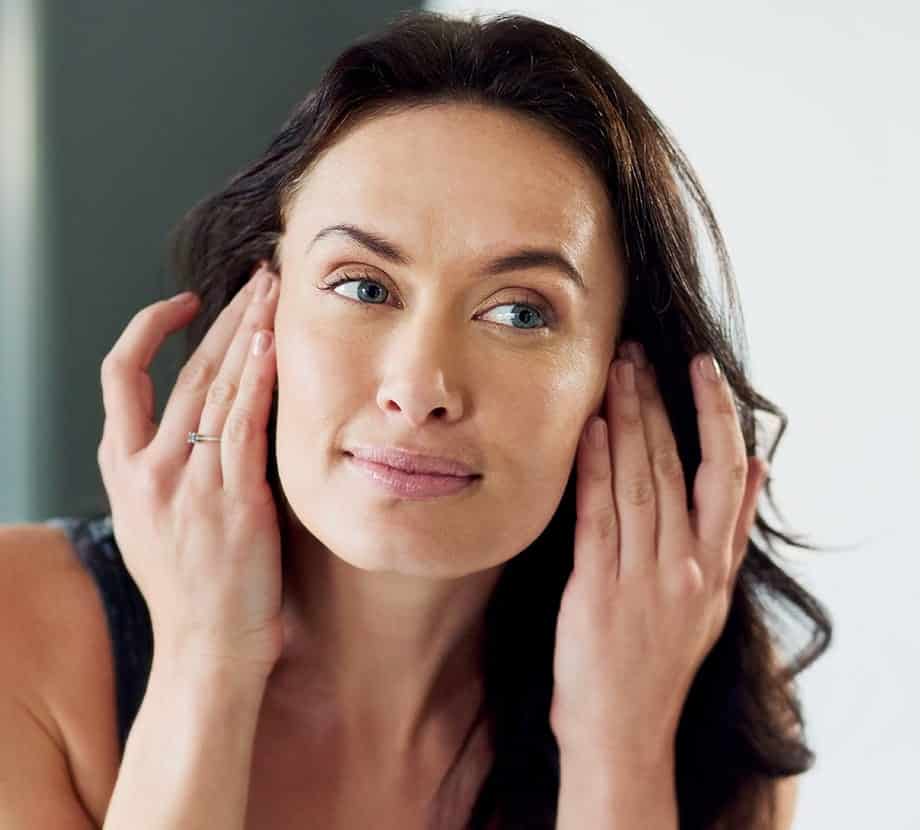 WHAT CAN NON-SURGICAL PROCEDURES DO?
Although most people would attribute undergoing cosmetic procedures as nothing more than a shallow act of vanity, the results bring about not just physical improvements, but real psychological benefits as well in the form of a boosted self-esteem. Non-surgical procedures offer great aesthetic changes through filler treatments, laser treatments, and peels without having to go under the knife.
WHAT ARE THE DIFFERENT TYPES OF NON-SURGICAL PROCEDURES?
More and more products and techniques have been made available to address specific concerns and provide the best possible routes towards enhancements and overall wellness following the growing popularity of noninvasive cosmetic procedures. These non-surgical procedures include the following:
Acne Scar Laser Treatment
Acne scar laser treatment is a medical procedure that aims to reduce unsightly marks left by severe acne. Laser therapy involves using focused beams of light over the affected areas to remove the outer layer of the damaged surface, making the scars less noticeable and also improving the tone and appearance of the skin. Your plastic surgeon will choose an appropriate spectral range fit to give you the best results depending on the severity of your condition.
FRAXIS DUO Fractional CO2 Laser
The FRAXIS DUO fractional carbon dioxide laser integrates the capabilities of a carbon dioxide fractional laser with micro-needle RF fractional technology by delivering intense superficial stimulation and volumetric heating, making it a state-of-the-art non-surgical procedure for skin enhancement. Common concerns such as enlarged pores, age spots, fine lines, and wrinkles are noticeably reduced, leaving you with firmer, younger looking skin.
Body laser treatments such as Palomar Icon and SculpSure™ are non-invasive procedures that solve a variety of unwanted skin issues that include unflattering fat deposits, varicose veins, skin discoloration, birthmarks, and scars. Body laser treatments are practically painless procedures which do not require long periods for recovery and are usually performed on the abdomen, thighs, buttocks, and arms.
Hyperpigmentation Treatment
Hyperpigmentation treatments utilize advanced laser technology to correct for dark patches on the skin caused by sun damage, skin trauma, acne, and congenital skin diseases. Melanin overproduction is also remedied as the concentrated beams of light penetrate deep within the skin to encourage tissue regeneration and collagen production.
Botox and Dysport are anti-wrinkle injectables made specifically to address the signs of aging. These injectables the relax underlying facial muscles to restore a youthful appearance. Both treatments are widely known for their almost immediate effects and short recovery period. During treatment, patients typically experience mild numbness, swelling, headaches, and bruising, which often disappear as quickly as they begin.
Laser hair removal offers a precise method for eliminating unwanted hair on various parts of the body, making it a less irritating alternative to tweezing, waxing, and shaving. Apart from stunting hair growth, the process of laser hair removals also improves the general appearance of the skin by correcting for hyperpigmentation and other imperfections.
A chemical peel removes the top dermal layer through the application of chemical solutions to resurface younger and smoother skin. This procedure addresses wrinkles, skin discoloration, dark spots, and scars. The depth at which chemical peels are done varies from case to case, going from light (superficial chemical peel), medium, to deep chemical peels. Deeper peels will naturally have more dramatic results, but will also require longer recovery time after the procedure.
Laser scar removal is a non-invasive cosmetic procedure that reduces the prominence of scars and keloids. When performed by a highly skilled and experienced professional, this form of focused light therapy effectively evens out your skin to render imperfections negligible by removing the layer of your skin that has sustained damage.
Dermabrasion is one of the many exfoliation techniques in non-surgical cosmetic procedures and is a popular choice for people who wish to rejuvenate their skin. A cosmetic surgeon gently removes the top layer of the skin using a rotating instrument to correct acne scars, age spots, fine wrinkles, and uneven skin tone. Patients usually experience a slight tingling sensation after the treatment. After about three months, the pink coloration should completely subside leading up to a full recovery.
Laser skin resurfacing removes layers after layer of damaged skin with precision using concentrated light beams. As a result, healthier, younger-looking segments of skin are brought to the surface for an invigorated look. After the procedure, it is expected to experience some form of swelling, itching, or tingling. These side effects should subside within 72 hours, while full recovery is estimated to take place between 10 to 21 days.
Facial laser treatments improve the appearance of your skin by treating wrinkles, blemishes, and acne scars. Short, concentrated pulsating beams of light are directed over irregular skin to remove layer after layer as needed. Palomar Icon combines the power of a fractional laser and intense pulsed light technology to provide a customizable treatment that is tailored to the personal needs of every patient.
Laser wrinkle treatments reduce the effects of skin aging safely and non-invasively. With the use of light therapy, skin cells are repaired and encouraged to regenerate to bring about a fresh appearance. Mild swelling is expected post-treatment as well as about four to eight hours of redness around the affected areas.
A fat transfer is a minimally invasive procedure that involves harvesting fat cells from other parts of the body and injecting them into the target facial areas. In turn, a younger profile is achieved as hollow spaces are lifted and filled in. This is an ideal solution for patients who wish to add volume to certain parts of their face.
Stretch mark removal is a quick and painless non-surgical procedure that involves light therapy to eliminate unsightly marks that come out of rapid weight gain or loss. This procedure is effective in evening out the skin tone that is affected by shallow and deep stretch marks, as well as providing patients with a generally smoother complexion.
Injectable fillers bring out a youthful appearance by minimizing the signs of aging. Contrary to other injectables like Botox, fillers relax the underlying muscles of affected areas, causing hollow lines and wrinkles to almost completely disappear. Because of their plumping effect, fillers can also be used as volumizers for the lips and cheeks. Restylane, Juvederm, and Sculptra are among the top choices of dermal fillers.
MAPPING OUT
NON-SURGICAL PROCEDURES
An initial consultation is scheduled between you and your cosmetic surgeon. It is here when you will be able to express your goals and ask whatever questions you have about your desired procedure. Your physician will also take this opportunity to get your medical history and perform preliminary physical examinations to lessen the risk of preventable complications as well as design a personalized approach to bring out the best results.
Non-surgical procedures take place in an outpatient setup, requiring relatively shorter hours to complete and shorter recovery periods. The depth of the procedure and the severity of a case plays into how long it would take to regain normal sensations or functionality, but, generally speaking, a couple of months is enough to make a full recovery from a non-surgical cosmetic procedure.
Non-surgical procedures need to be performed by none other than licensed professionals of the field despite being simple and less complicated. Dr. Sedgh is a twice certified medical practitioner with numerous years of experience and training. With the unmatched expertise recognized by the American Board of Otolaryngology – Head and Neck Surgery and the American Board of Facial Plastic and Reconstructive Surgery paired with the eye of an artist, Dr. Sedgh is your best bet to achieve the results you have envisioned in your head. Avail of his services now in his state-of-the-art facility in Southern California.
COMFORT & TRANSPARENCY FROM START TO FINISH
When under our care, Dr. Sedgh always ensures you feel comfortable, cared for, well-informed about every aspect of your upcoming treatment, whether surgical or non-surgical. With an approach which focuses on achieving refreshed, natural-looking results, Dr. Sedgh prides himself on always acting with transparency, honesty, and the highest level of ethical treatment, from start to finish.